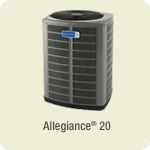 Stay cool and save a comfortable amount of money with A C & Heat Solutions line of air conditioners. Our air conditioners range in efficiency from 13 to
21+ SEER — among the highest efficiency ratings in the industry.

Our family offers a wide range of comfort choices,
plus exclusive state-of-the-art technology that quietly,
meticulously and efficiently conditions your air. Get ready for a
level of comfort you and your family may never have experienced
before.